Welcome!
I joined Epilepsy Foundation New England as our President and CEO two years ago this week. Like approximately 80% of our board and staff, I have a direct and personal connection to epilepsy: I work alongside my wife, Chanda Gunn, who is our NH Field Service Manager and our Youth Programming Specialist, and is a person living with epilepsy.
As the work of the Foundation progresses, we are not just measuring the impact we've had on the numbers; we are measuring the impact we've had on lives - on you, on us, on each other. For that reason, I'm proud to share with you some highlights of the past year.
---
$1 Million
May 2018 marked the first time in a fiscal year that individual donations surpassed $1 Million within one year! We are so grateful. The generosity of our donors is helping the Foundation thrive across New England.
Growing Young Adult Leaders
Juggling school, work, friends, and growing into one's own is no easy feat for any young adult. Our Young Leaders Network is more than 250 strong with monthly meetings in Boston, Portland ME, and Providence RI, with programs about to take root in Central MA, Western MA, and Central NH this fall.
Kids Connect
Piloted last spring, our middle school program offers a chance to have fun, make friends, and learn about advocacy and leadership. Programs are ramping up in Portland ME, Cape Cod, and NH.
Endowment
I was proud to announce our endowment earlier this year: a critical step forward in helping people and families affected by epilepsy in New England for the long-term. The establishment of an endowment fund will enable Epilepsy Foundation New England to invest and grow contributions from donors in perpetuity. Through the endowment, Epilepsy Foundation New England will be able to look beyond immediate funding needs and ensure that programs, interventions, and financial aid will be available to future generations. The endowment fund increases the sustainability of its programs and ensures long-term stability for Epilepsy Foundation New England.
Proven-Effective Camping
Our 9 Camp Programs include new partnerships with Ironstone Farm in Andover MA, Sail to Prevail in Newport RI, and Waypoint Adventure, opening up new camp experiences in Lincoln RI, Worcester MA, and Portland ME. We've always believed strongly in providing camp experiences to individuals and families fighting epilepsy because we've seen the support it can provide both. Thanks to a recent program evaluation, we have new data to show how critical camp is to our kids and families. Camps have a very favorable impact on campers' "having fun," willingness to try new things and take on challenges, improving sense of self, showing respect for self and community, ability to build healthy relationships, increasing confidence to work through health challenges, and willingness to contribute to family, school, or community.
Reaching New England
Reaching New England – The Foundation's leadership team now includes Councils who meet monthly in RI, NH, and ME. Councils provide leadership for the epilepsy community in their regions and ensure that services and strategy are attuned to each area's unique strengths and challenges. Staffed by regional Field Service Managers, Councils contribute to networking and community-building activities for the epilepsy community in their area; select and help run programs and activities that engage and connect people with epilepsy and their loved ones to each other and to the Foundation; support fundraising activities such as our Walk for Epilepsy; act as ambassadors for Epilepsy Foundation New England; support advocacy work in the region/state; and work as individuals and as a Council to implement strategies that decrease the stigma of epilepsy. On July 2, we hired our newest Field Service Manager: Sarah Specht will facilitate our ability to help people in Central and Western MA.
Investing in Research
In March, we held our 2nd annual Innovation in Epilepsy fundraising event, showcasing the amazing work happening right here in New England, and yielding $50,000 to support the Epilepsy Innovation Institute
Slap Out Epilepsy
In June, our "Slap Out Epilepsy" event raised over $30,000. Most importantly, over 120 kids and their families showed up and had a blast. To read more about the celebrity hockey players who helped make it special, read the article here.
Light the Way Today
On March 26, we held our first #lightthewaytoday campaign to raise awareness of epilepsy and shine a light on the difficult reality that epilepsy can be fatal. Each year, more than 1 in 1,000 adults and 1 in 4,500 children with epilepsy die from Sudden Unexpected Death in Epilepsy (SUDEP); the risk increases to 1 in 150 for people whose seizures are poorly controlled. People across New England lit purple candles and participated on social media to honor loved ones lost and support those battling epilepsy. Hear what Actor John O'Hurley said about it here. For resources about SUDEP, visit us here.
Out in the Common to Make Epilepsy History
At the close of our Boston Walk for Epilepsy on May 11, the Chair of our Professional Advisory Board, Tracey Milligan, MD, observed that the 1st walk held on the Boston Common was symbolic of the hard work of the Foundation and all of us to bring epilepsy out of the fringes and into the Center of things. The Walk has doubled in size over the last two years and raised more than $215,000.
---
Together, we are helping thousands of people and families affected by epilepsy in New England, and I'm honored to work with and for each of you on our journey.
Sincerely,
Susan Linn
President/CEO, Epilepsy Foundation New England
P.S. My family will spend more than 32 days at 8 Epilepsy Foundation New England Camps this summer. Take a look at why camp is the highlight of our year in this 2-minute video.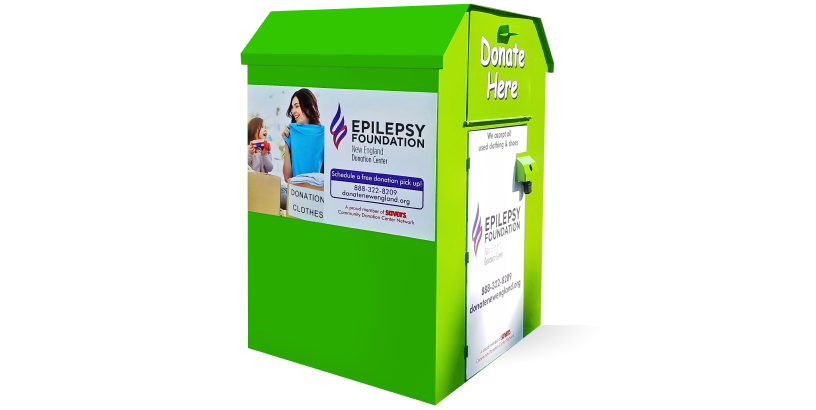 Support The Epilepsy Foundation
Your clothing, dishes, household items, toys, apparel and more make a big difference. We make donating easy with free, scheduled curbside pickups.