Together, We Can End Epilepsy
Our volunteers are the lifeblood of our organization. Together, our volunteers make it possible for Epilepsy Foundation New England to get critical resources, information, and support to members of our communities who are living with epilepsy.
The Independent Sector calculates the value of volunteer time as $24.14/hour. Our volunteers contributed over 4,700 hours in 2017. That translates to more than $110,000 in services to the Foundation. Thank you!
Our Volunteer Application Process
1. Fill Out Application
Our volunteer application is available online below. A paper application is also available. To request one, please email Susan Welby at @email or call (617)506-6041 x102.
2. Interview
After we receive your application, you'll have a brief phone or in person interview with Susan Welby, Education and Volunteer Coordinator.
3. Reference Check
Following your interview, we'll call the reference listed on your application to discuss your qualifications as a volunteer. (Certain positions may require more than one reference.) Be sure to list someone who knows you well!
4. Background Check
Certain volunteer positions, including all camp volunteers, all support services help desk volunteers, and all volunteers working 1:1 with clients, will require background checks.

Become A Volunteer
Thank you for your interest in volunteering with Epilepsy Foundation New England! Our volunteers are critical to the success to our programs and services.
For a list of available volunteer positions, please visit our page on VolunteerMatch!
Apply Today:
Questions? Contact Susan Welby, Education and Volunteer Coordinator at (617) 506-6041 x102 or by email.
Lacey and Laurie Douglass, September 2018
Lacey Douglass is a high school student with a strong commitment to helping others. She spent a summer weekend at Epilepsy Foundation New England's Family Camp. "Lacey was such a natural with our campers! She provided support and encouragement to ensure that everyone participated and felt included, regardless of their abilities. She inspired the campers to show off their musical abilities by playing guitar alongside them in the talent show band! Her kindness is truly remarkable, and her positivity is contagious!" said Joy Buzzell, Resource and Support Coordinator.
Lacey made a special bond with a young man, "John," who has cerebral palsy and epilepsy, who is blind, and who has communication challenges.  He loves to sing and perform, and Lacey spent hours practicing with John: their rendition of 'Sweet Home Alabama' will be remembered by the staff and volunteers for a long time to come.
Laurie Douglass, MD is a fierce advocate for her patients at Boston Medical Center, and although one area she has chosen to focus her efforts is in helping pediatric patients transition to adult health services, her patients do not want to leave her! She is compassionate and always sees the person - not only the patient. Laurie's 24-7 volunteering at our Purple Family Camp resulted in joy and memorable experiences that will stay with the dozens of kids and parents we served.
What an impressive mother-daughter team! We are so fortunate to have such genuine, caring people within our epilepsy community who are willing to take time out of their busy lives to support our summer camp programs. We couldn't do it without you!
"Laurie and Lacey weren't just helpers at Purple Camp: they were essential in team-building, creating new activities, building connecting, and much more. Thank you Laurie and Lacey for doing the macarena, fishing, Capture the Flag, talent show performances, making bracelets, dancing – and most importantly – laughter," said Susan Linn, President/CEO.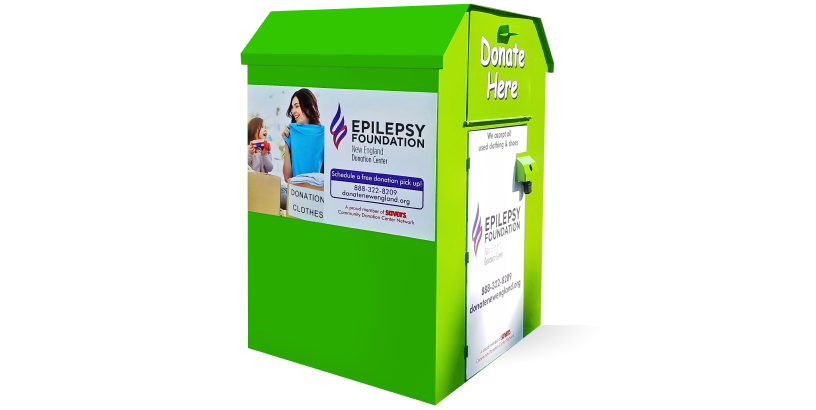 Support The Epilepsy Foundation
Your clothing, dishes, household items, toys, books and more make a big difference. We make donating easy with scheduled pickups at your doorstep.