Clothing Drive Fundraiser
Host a Clothing Drive.
Fund your Organization.
Turn used clothing, shoes, and linens into dollars by hosting a Clothing Drive Fundraiser! It's as simple as cleaning out your own closet—and asking your community to do the same.
Get paid for every pound you collect
Support programs and services that benefit people and families with epilepsy
Declutter closets, keep clothing out of landfills, and give your items new life

It Couldn't Be Easier
Before you start your clothing drive fundraiser, get in touch and we'll team you up with a dedicated clothing drive manager. They'll guide you through every step of the planning process, making sure you fill out necessary forms, count and store your collections properly, and have all the information you need to run a successful fundraiser. We'll even send you our Clothing Drive Fundraiser Toolkit to help you promote your event online and across your community!
Get Paid By the Pound
There is more than enough clothing out there, and we'll do whatever we can to help you collect as much of it as possible. In fact, millions of pounds of textiles are dumped into landfills each year—and many of those items could've been donated! By hosting a clothing drive, you're asking your community to give their used items to a great cause instead of trashing them. That means more funds for your nonprofit and fewer pollutants harming our environment!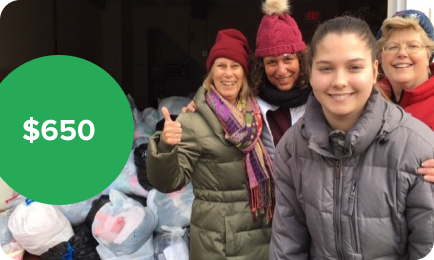 The Global Goods Foundation in Maynard, MA raised nearly $650 to support their community-based projects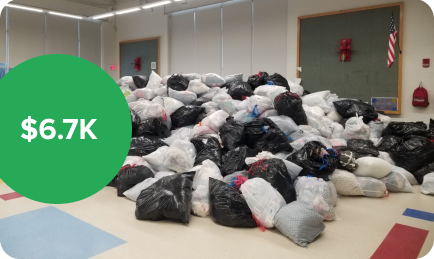 Weare Middle School in New Hampshire raised over $6,700 for their 8th grade trip to Washington, D.C.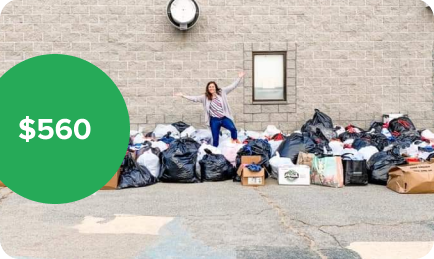 Three Rivers School raised over $560 for their 6th grade environmental camp trip.
Things To Consider Before Hosting Your Clothing Drive
What We Accept
Clothing
Outerwear
Footwear (shoes, boots, heels, etc.)
Accessories (belts, socks, ties, scarves, hats, etc.) 
Backpacks & handbags
Costumes & dress-up clothes
Household fabrics (bedding, sofa covers, tablecloths, towels, etc.)
Frequently Asked Questions
How much do you pay per pound?
We use a sliding scale based on the total weight of clothing you collect during your drive. The more bags you collect, the more money you raise!
Is there a minimum number of bags or pounds to collect in order to get paid?
Yes, we do have specific minimums that must be collected in order to earn payment. These numbers are based on your location and will be shared with you by your clothing drive manager.
Do we need to separate the clothes and shoes?
No, all items can be mixed in the bags. No need to separate by style, size, or item.
What if we do not collect the minimum number of bags?
Your personal clothing drive manager will work with you to make sure your clothing drive fundraiser is a success!
What types of organizations can participate in a clothing drive fundraiser?
All nonprofit organizations, schools, religious organizations, Scouts, Booster Clubs, sports teams, etc. Our goal is to help local nonprofits generate revenue to support their missions.
Do you pick up the bags at our location and can we have multiple pick ups?
We send a truck and a driver to pick up the bags you collected on the date and time previously established with your clothing drive manager. We typically only pick up once on the agreed upon day. We ask that you collect and store all the bags until that time.
Do you drop off containers to use for collecting bags?
No, we do not drop off containers for collecting bags. You are responsible for finding a location to store the bags during your collection period. Your clothing drive manager can help you with ideas for storage.
How long do clothing drive fundraisers last?
You can run it for as long as you want. Some organizations hold it over the course of a few weeks and others hold them for an entire month or more. It can be tailored to meet your needs.
A Program For Nonprofits, By A Nonprofit
A Stress-Free Way to Fundraise
This was one of the easiest fundraisers I have been a part of. It was also a wonderful way to get the entire community involved in raising funds for our annual scholarship.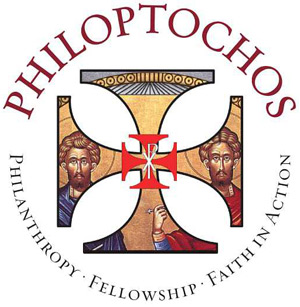 Margaritta C. Grimes
Ladies' Philoptochos "Patris" Scholarship Chairperson
A 'Win-Win' For Melmark
Partnering with the Epilepsy Foundation is a win-win for Melmark New England's staff, students and families. Not only does it encourage us to clean out closets and spare rooms, and recycle items for a great cause – we get a cash donation back from each clothing drive!

Ellen M. Kallman
Director of Advancement
Your Clothing Drive Fundraiser Starts Here.
Get in touch to start planning! Call us at 617-401-7425 or complete the form below to get your fundraiser started!
Available in Massachusetts, Rhode Island, Maine, and New Hampshire only.
Fundraiser Application Form