EFNE Names Representative Michael Day, Honorary Chair of the 40th Annual Gala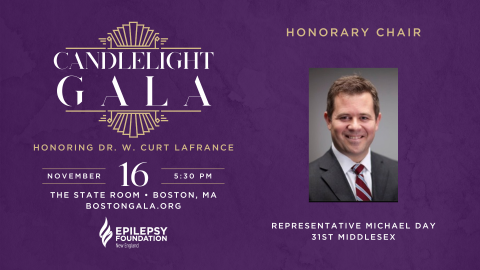 Lowell, MA (September 5, 2023) – Representative Michael Day, of the 31st Middlesex district consisting of the towns of Stoneham and Winchester has been named honorary chair of Epilepsy Foundation New England's 40th Annual Candlelight Gala.
Epilepsy Foundation New England's mission is to help people and families affected by epilepsy in New England by providing Help for Today and Hope for Tomorrow. 
Epilepsy Foundation New England is an independent affiliate of Epilepsy Foundation of America, whose mission is to lead the fight to overcome the challenges of living with epilepsy and to accelerate therapies to stop seizures, find cures, and save lives.
"It is an exciting time for Epilepsy Foundation New England as we celebrate 40 years of serving the region with quality programs and services for the 111,000 people living with epilepsy across Massachusetts, New Hampshire, Vermont, Maine, and Rhode Island.  We're grateful for Representative Day's commitment to the epilepsy community and are thrilled to have him as our honorary chair for this year's Gala," remarked Susan Linn, President and CEO of Epilepsy Foundation New England.
This event raises awareness and important funds to help support many of the programs and services the Foundation offers such as camp, emergency financial assistance, scholarships, support groups, and many more.
The 40th Annual Candlelight Gala takes place on November 16th at The State Room in Boston, more information can be found at BostonGala.org.