Dr. Andrew Cole, MGH, Named Chair of the Board of Epilepsy Foundation New England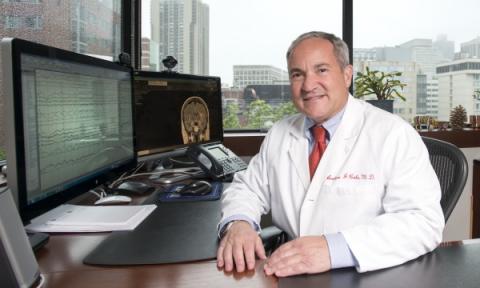 Lowell, MA – Epilepsy Foundation New England today announced that Andrew J. Cole, M.D., F.R.C.P.(C.), was elected Chair, Board of Directors, effective immediately.  Dr. Cole is Professor of Neurology at Harvard Medical School and Director of the Massachusetts General Hospital (MGH) Epilepsy Service, Chief of the Division of Clinical Neurophysiology, and Vice Chair of the MGH Neurology Service at Massachusetts General Hospital.  
 
"Dr. Cole is not only a premiere epileptologist, but a long-time leader in care and advancements in treatments for people living with epilepsy. The Epilepsy Foundation community in New England is fortunate to have Dr. Cole at the helm. Congratulations," said Bradley P. Boyer, Chairman of Epilepsy Foundation of America.   
 
"I am honored to be asked to chair the Board of Directors of this extraordinary organization," said Dr. Cole. "Under President and CEO Susan Linn's remarkable leadership, EFNE is taking this moment to reimagine what a foundation and support network can look like. For our community, the COVID-19- driven pivot to providing support virtually will be transformative, allowing EFNE to offer our services across the broad reaches of Maine, New Hampshire, Massachusetts and Rhode Island, and maybe even further.  We will be able to foster connections between families and people with epilepsy that would never have been practical in the face-to-face world we lived in just a short time ago."  
 
Dr. Andrew Cole graduated from Dartmouth College Magna Cum Laude and Dartmouth Medical School. He trained in Neurology and Clinical Neurophysiology at the Montreal Neurological Institute, and then moved to Johns Hopkins University School of Medicine where he was Assistant Professor of Neurology. He came to Massachusetts General Hospital in 1992 where he started and developed the MGH Epilepsy Service, founded the MGH Pediatric Epilepsy Service, and built the MGH Epilepsy Research Laboratory. He has published extensively in clinical neurology, epilepsy, clinical neurophysiology and basic neuroscience. In addition to research and clinical work, Dr. Cole lectures frequently throughout the United States and internationally and has been a visiting professor at numerous institutions in the U.S.A. and abroad. 
 
Additional elected Board of Directors Officers include Alison Zetterquist, Vice Chair; Stephen Siravo, Treasurer; and Joseph Siravo, Secretary. 
 
About Epilepsy 
Epilepsy, also often referred to as a seizure disorder, is a common medical condition which affects the central nervous system. While some people may experience a single seizure in their lifetime, the diagnosis of epilepsy is made after a person experiences two or more seizures that were not caused by another known medical condition. 
Ending epilepsy requires a thorough understanding of how and why those living with epilepsy are affected. 
 
About Epilepsy Foundation New England 
Established in 1983, Epilepsy Foundation New England is a 501 c 3 nonprofit organization whose mission is to help people and families affected by epilepsy in New England.  Epilepsy Foundation NE is an independent affiliate of the Epilepsy Foundation of America, whose mission is to lead the fight to overcome the challenges of living with epilepsy and to accelerate therapies to stop seizures, find cures, and save lives. Epilepsy Foundation NE serves the approximately 104,000 people in Maine, Massachusetts, New Hampshire, and Rhode Island affected by epilepsy and the people who care for them find help for today, hope for tomorrow. 
It provides youth services, including summer camps, year round programs for elementary and middle school (Kids Connect), and young adults (Young Leaders Network), as well as a scholarship program; resource and support services including emergency financial aid, helpdesk, support groups, retreats; the Remembrance Network for people who have lost someone to epilepsy; community education; public policy advocacy; and fundraising for research.   
 
To learn more, visit epilepsynewengland.org.