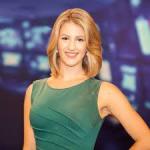 Tamara Sacharczyk
Channel 10, Providence
Tamara Sacharczyk is a weekend morning anchor and award winning special projects reporter with a background in investigative journalism for NBC 10 News in Providence.
Tamara graduated magna cum laude with a degree in multimedia journalism and political communications from Emerson College in Boston in 2014.
She has been actively involved in raising awareness for epilepsy over the years, after being diagnosed with the condition in high school.
Tamara joined the board in July of 2019. She lives in Cranston, Rhode Island with her husband Paul.