Young Leaders Network , November 2018
Our Young Leaders Network is our fastest growing program. What started as a pilot in January 2017 with 5 young people in Boston has turned into hundreds of high school and college aged students meeting monthly+ in 7 cities in New England.  We couldn't do our work without the thoughtful leadership of dozens of volunteers who plan and run activities and meetings, provide support and encouragement for Young Leaders Network members, and have fun!  Pictured: Christine Doherty, Kevin Murphy, Mike Kelly, Paul Duffey, and Lilia Melikechi.  There are more than two dozen volunteers making a difference through the Young Leaders Network.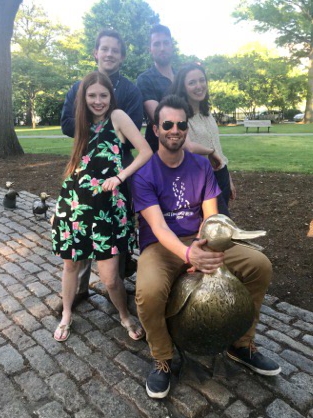 "Our young people learn so much from our wonderful volunteers.  I couldn't have grown the Network – we couldn't function - without them!  They are one of the most caring and awesome groups of people I've ever met, and I'm so grateful," said Chanda Gunn, Youth Programming Specialist and founder of the Young Leaders Network.
Life is busy and there are is no shortage of ways these volunteers could be spending their weekends.  The fact that they choose to spend their free time giving back and making a better tomorrow for the next generation, makes them super special in our book and makes them November's Volunteers of the Month. Thank you!