Katrina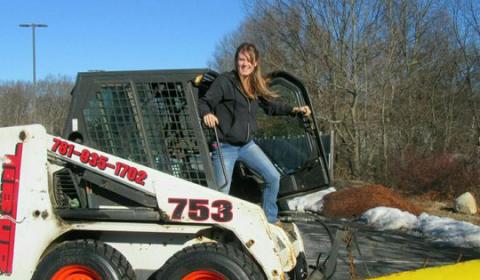 My name is Katrina Russo. I am 29 years old and I live right outside of Boston, MA. A little background on me: I have two older brothers who are 10 and 12 years older than me, and then my mom and dad. We lived in a house my dad built with his own two hands. My oldest brother, Matt Jr., passed away (May 2015) of Muscular Dystrophy complications, but when we were little, when my dad was building the house, he built it so that my brother and I would be safe. All doorways were wider for my brother's wheelchair, all corners of the countertops were rounded, etc.
I was diagnosed with epilepsy when I was about 4 years old. This was right around my birthday. My Nana had noticed something wasn't right. My parents had taken me to the doctor and behold, I have epilepsy! It was scary for me and my family at the beginning. You see, no one in my family line has ever had epilepsy, so we were not entirely sure how to deal with it. When I was in 4th grade some of my classmates found out about my epilepsy. I was told, straight to my face by one of my classmates, "you know you're going to die, right?". I went home, not wanting to ever go back to school. Things were straightened out when the parents were contacted. So, 4th grade did end well.
From there, I went on to Belmonte Middle School. The school told me from the get-go that they wanted me tested and how I would be in special education classes and I would always be behind. I was never one to have people tell me what I could and couldn't do. I tested in 6th grade at an 11th grade level. People backed off after that. I decided far earlier than middle school that I was going to go to the technical school in my area and become a veterinarian. So, during 8th grade I applied and because of my grades, I was welcomed in with open arms. I started there August 2003.
My freshman year I took all 3 majors, but at the time still thought I was going to be a vet. Well, that changed drastically. After a few Plant Science classes and machine operations in, I decided I am going to be a landscaper and run heavy machines....so I did. During my sophomore year, I majored in Plant Science, where I took Natural Resources, Horticulture, Floriculture, Arboriculture and Mechanics. I was always very big into chemistry and biology so I decided from there to narrow my major down to Natural Resources, where I learned soil, air and water testing (the chemistry and biology side of things) but I also took turf management and learned to run those big machines that helped care for the turf I was also testing.
During my sophomore and junior year, I was working at a local nursery learning all the plant names, scientific names, how to care for them and everything else I would need to know about plantings. The summer between junior and senior year I became part of the SCA (Student Conservation Association), where I left my friends, family and job to live on the side of Roan Mountain in Tennessee for over a month with no running water, no electricity, no cell phones, no iPod - nothing. We had to write home to our families. It sounds like a teenager's worst nightmare, but it was one of the best experiences of my life. I came home injured, because on a day trip hike I slipped on a rock and tore ligaments in my leg. 
I came home to the welcome wagon from my friends and family and had about 3 days to recover from being jet-lagged before I jumped into my senior year. My senior year was starting off amazingly. I was still holding high honors and perfect attendance (as I have my first 3 years in high school plus all through middle school). I will never forget the day my life, career and senior year changed forever. It was October 17th, 2006, it was a normal day, I grabbed my climbing gear to head up into a tree to take down some dangerous limbs. I was recently taken off my medication because I had been under control for 5 or 6 years at that point. I got up in the tree and suddenly fell back in my harness, I had a seizure about 30 feet up in the air. I was one of the best climbers in my class so tying myself in was no issue and it was virtually the only thing that saved me from falling to the cement below me. I was lowered to the ground by one of my classmates and my teacher. Then I was taken to the nurse where I didn't remember anything at all.
My life came to a screeching halt, my license was pulled, I couldn't remember anything (and it was almost time for midterms), I was told I couldn't run equipment anymore. To top it all off, the hospital I was taken to lost my EEG and bloodwork results. I wanted to give up on everything. I ate, slept, and breathed landscaping - and I still do now. I was more upset that I couldn't run equipment than I was about having my license taken away, which I guess was the comedy relief to my family and friends.
I decided to get a job at Bob's Clothing Store, just to keep an income flowing. I have always been the person who was at school or work EARLY, because I always loved what I was doing. Well, for the first time in my life, I had no desire to be at work, or even at school for that matter, because I could not run the equipment.
It took about 6 months for me to remember how to even get back into a tree and start up the equipment. I was back in the swing of things by the spring and doing my thing. My senior year I was working at Salem Country Club on the grounds crew. I graduated June 7th, 2007 from "the Aggie" (Essex Agricultural and Technical High School) and I was ready to start my career.
I worked for a few landscape companies until I reached where I am today at Tibur Landscape and Irrigation out of Woburn, MA. My boss had scoped out my work when I was working for another landscape company and wanted me to run his newly opened maintenance department as his foreman. I thought it over and happily accepted the offer. In March 2018 I will be here for 4 years and I haven't looked back since. The stress of opening and running something so new had its effects on my seizures because opening a department was obviously a new adventure for me and I did not know what I was getting myself into. Almost 4 years later, I have gone from 9 customers up to well over 100. I would say I am successful in what I do here and I am accomplishing my goals.
I want to get my story out there to everyone, to let people know, that if you're safe and take all the precautions needed, you can do anything your heart desires. I am very fortunate in the grand scheme of things that I can do what I do daily. I work long hours driving a plow truck over the winter and long hours during the season to make sure what I came here to make successful is always at the top of its game.