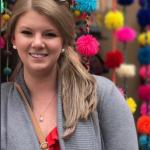 Jessica Fennell
Talent Acquisition Specialist State of Vermont
Jessica Fennell is a person living with epilepsy. She lives in Vermont and served on the Epilepsy Foundation of
Vermont's Board of Directors from November 2010 through December 2021. Jessica began her involvement
with the Epilepsy Foundation of Vermont at the Teens Speak Up! program in Washington D.C. as the Vermont
representative in 2007. She was diagnosed with juvenile myoclonic epilepsy in 2005, and has been passionate
about providing support for those affected by epilepsy themselves since her own diagnosis.
Jessica works as a Talent Acquisition Specialist for the State of Vermont. Her career background is in human
resources and digital marketing. Jessica studied philosophy at Westminster College in Salt Lake City, UT and
at the University of Vermont in Burlington, VT.

When Jessica isn't doing recruiting work for the State of Vermont or awareness and advocacy work with EFNE,
she can be found hiking, skiing, paddling, and exploring with her significant other, Collin, and their Australian
Shepherd, Maverick.